Access Database Examples for Business
We have been creating bespoke Access database solutions for businesses small and large for over 20 years, so we have probably already worked in your sector! Each database we create is built from scratch to fit your exact requirements, although we do re-employ many ideas and features, and we make full use of in-built and our own wizards to make the design and creation as efficient as possible. We often keep the look and feel of our systems consistent, although we can use your corporate colours and fonts if wanted.
Below are some examples of real systems we have created. There's a bit of explanation about each one, but the main idea is to show pictures of what real systems look like. Each example has a few screenshots to give you an idea. These are just a few examples out of the hundreds (literally) of systems that we have created over the years. They are here to give you a flavour, but they cannot cover everything we have ever done!
We would be delighted to talk to you about your own requirements and will offer you free impartial advice about whether we are the right route for you or not.
Find out more about how we can help you with your project by
emailing us via our Contact page or giving us a call on 01747 822616. We give free advice!
Database Examples
This example is typical of systems where a smaller business, or a single department in a large company, is using an Access database to manage their entire process. In this case it was a commercial building company. Their system enables them to log all enquiries, create quotes, convert enquiries into Projects or Jobs, manage their projects/jobs - including sourcing materials and subcontract labour, allocating equipment and tracking it, managing costs, logging supplier invoices, creating sales invoices, and providing management information reports. It includes proactive tools to help with managing the jobs and projects with standard and ad hoc reminders, a coloured status screen, and lots more!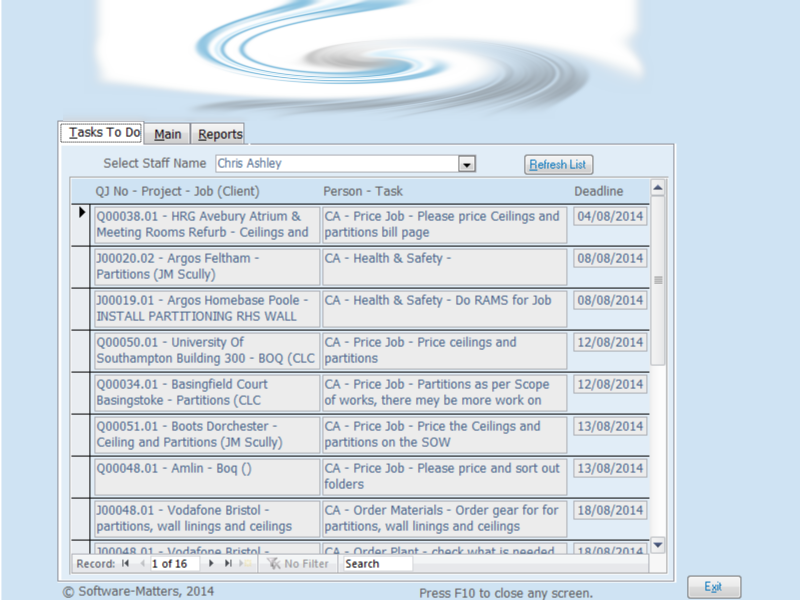 Asset Management/Infrastructure Database
This particular example is for managing large property/land-based infrastructure projects. It is a complex system for holding details of all interested and affected parties, managing the relevant project and legal process with all of these, generating and storing documents and with an integrated document retrieval system. It can also be linked to a geographic information system (GIS) to display information visually on Ordnance Survey and Google Maps. Other asset management systems we have created have covered property repossession/property portfolio management and historic chattels/collection management for a couple of large privately-owned estates.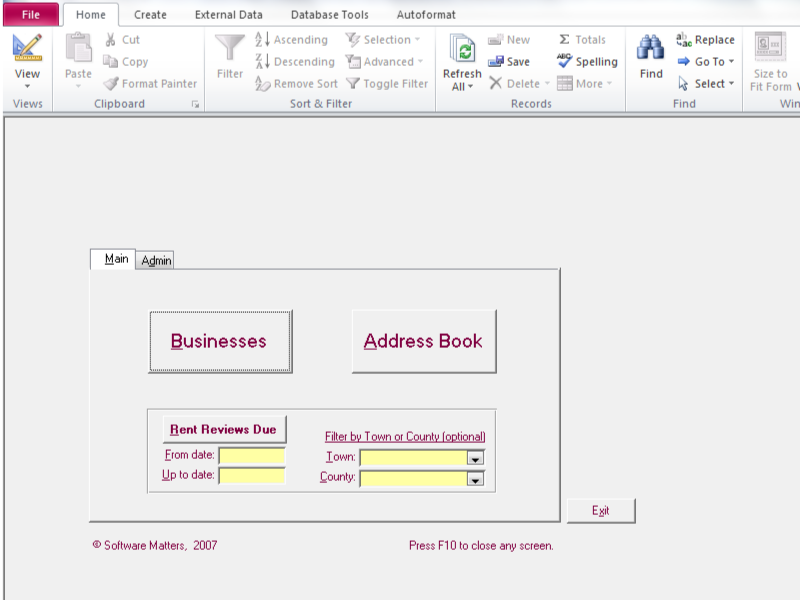 Stock Management/Stock Control/Stock Take Database Systems
These have come in all sorts of form! Whether you hold stock for manufacture or for sale, or a mixture of both, we can create a system that fits your needs exactly. For some companies, stock is the centre of their world; for others it is just part of what they do. For some businesses their stock is individual; for others it is bought in bulk. This particular example is for a company buying and selling large pieces of second-hand equipment. It allows them to record all of their purchases, their spend on each of them (parts and labour), enquiries about buying each item, and details of the actual sale including detailed payment terms and shipping information. There are easy links to related paperwork and to images. And there are the usual facilities for stock-taking, valuations and management reporting. This particular system also has to work with multi-currency situations and exchange rates.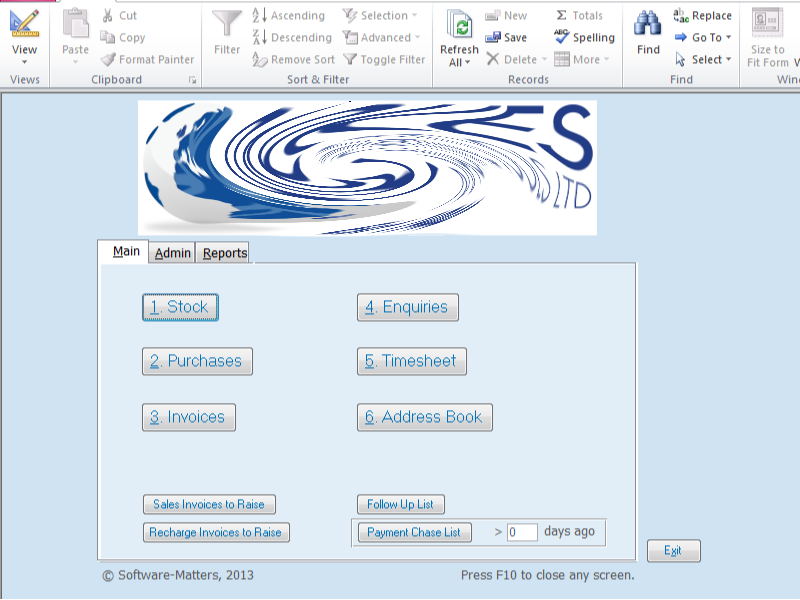 Technical/Engineering Database Systems
We are usually called upon to create a system because there isn't something suitable available off the shelf. Whilst there are many common reasons why businesses need something bespoke (wanting something that fits your own process exactly, integration with other systems, wanting to use in-house terminology, wanting something simpler and cheaper than the off-the-shelf packages available, wanting something flexible that can evolve with your business), one reason that we have encountered quite often is that the system requirements are very technical. Several of us have engineering backgrounds and so we can understand and implement these systems more easily than other Access developers can. We have created systems for calculating flue requirements for heating systems; for holding complex materials data used internationally as an industry handbook; and for storing and using method statements for manufacture; spares matching systems; and, in this example, a burners database for recording products, technical specs, drawings releases, etc.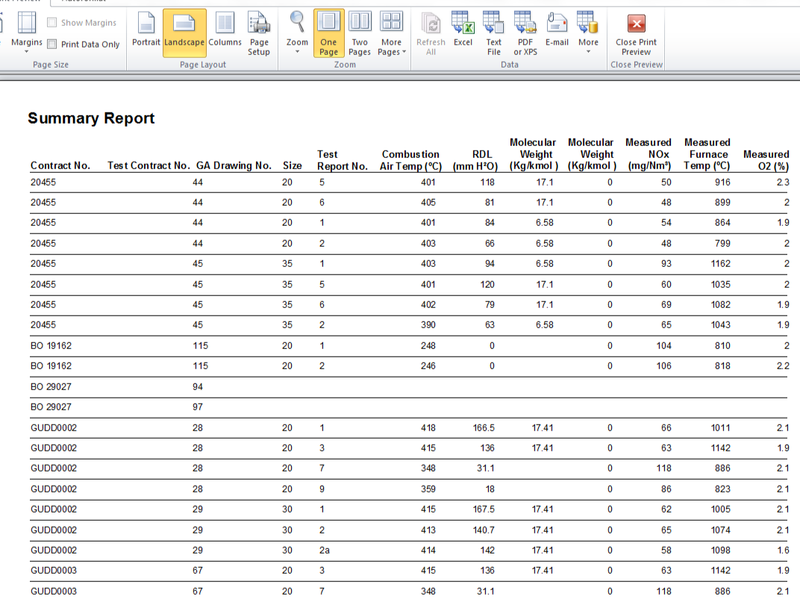 Find out more about how we can help you with your project by
emailing us via our Contact page or giving us a call on 01747 822616. We give free advice!