Project and Scheduling Software Design
Do you want your projects to be more organised?
Do you have problems juggling around multiple projects at once?
Do you need help with deadlines and milestones?
Do you need a way of illustrating groups of milestones and scheduling time?
If you answered yes to any of the above, call us now on 01747 822616 or fill in an enquiry form and find out how we can help you.
Project and Scheduling is very important when any business undertakes a task. Whether you are a small business, a large organisation or anything in between, organised projects are key to success, increased business and more accurate on-time deliveries! Good project scheduling software will help you allocate the exact amount of work to your employees and enable you to manage each event or milestone effectively.
Benefits of Good Project and Scheduling Software:
Increased efficiency with the use of charts for easy-to-see milestones
Decreased stress levels with efficient and organised scheduling
Increased capability to manage multiple projects simultaneously
Project and Scheduling Software is essential for companies who want to effectively manage multiple projects at the same time. Project and Scheduling Software can help manage resources and allocate them to the places they are needed as well as tracking what needs doing and by when. Excellent Project and Scheduling Software will guarantee an increased profit due to on time deliveries and more efficient resource management. Scheduling a project well is important as it enables you to be more conservative of your resources.
Software-Matters have been experts in creating bespoke scheduling software since 1994 and have created many different systems tailored to the specific needs of our clients. Contact us now for a free consultation to discuss your new project.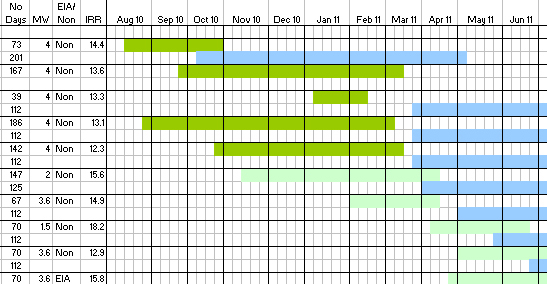 A project management chart, also referred to as a Gantt chart, which can be used to efficiently schedule important events and manage your projects.
FREE Consultation - what you get:
Free 10 - 20 minute phone consultation
Chance to talk through your scheduling project with an expert
Friendly, jargon-free advice on your project
An honest assessment of your project; if we don't think you need something - we'll tell you!
Fill in an enquiry form here and we'll call you back or call 01747 822616 to speak to someone right away.