What is a CRM system?
CRM literally stands for Customer Relationship Management, but really when people talk about a CRM system they mean a place for logging the details of all of their contacts (customers, prospects, referrers, etc.), and for managing those relationships, i.e. keeping in touch with them, primarily for marketing. The ultimate aim, therefore, of a CRM or Prospect Management system is to help you get more business.
Do I need a CRM or Prospect Management System?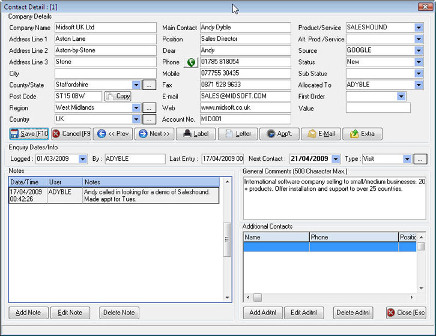 If you are running a business, then the answer is almost certainly yes, you do need something. This might be an old-fashioned address book and diary that you write in; or it might be a spreadsheet; but most commonly it is a database package of some sort. You can buy off-the-shelf CRM packages built for the purpose.
These may suit you very well, but you may find that they are too complicated or that they can't cope with your particular requirements. One big shortcoming of an off-the-shelf CRM is that they are separate from everything else you use in the business. It is far better if you can come up with a system that is part of the overall system you use to run your business.
Integrated CRM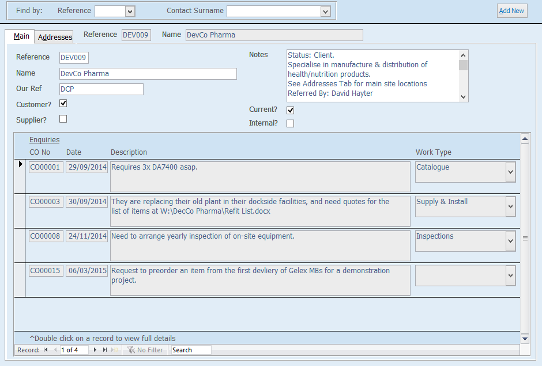 Enquiries and quotes are just orders/jobs in-waiting. You should only need to enter them into a system once. You should have a system for managing your prospects and leads, but it makes sense to integrate this system with the rest of your business since the whole point of the system is to turn those prospects into business!
An integrated system for managing your whole business need not cost a fortune. For example, a software developer should be able to create a system like this for you using Microsoft Office for a few thousand pounds.
An integrated CRM system should enable you to log all enquiries and leads, create and log quotes, turn prospects into clients at the click of a button, and turn quotes into jobs or enquiries into orders similarly straightforwardly. From this, in due course, you should be able to create your invoices without having to enter the relevant details again.
What should my system do for me?
Your CRM or Prospect Management system should enable you to have a single place where you enter all of the contact details of the people and businesses with which you interact.
The benefits of a CRM or Prospect Management System are:
Information at your fingertips - both contact details and what needs doing as well as what has already happened - so that you sound (and are!) clued up.
Reminders - helping make sure you don't forget something/someone
Convert more leads/enquiries to sales/jobs/orders
Maintain contact with lapsed customers and win them back
Save time
Monitor sales and marketing performance
The features you should expect in a CRM or Prospect Management system are:
Central address book of all of your contacts
Integration with the systems you use to run your business
Contact history - keep a log of all interactions you have with your contacts
Proactivity - to help you keep track and follow up
Easy emailing, mail merging, etc.
Flexible - you want a system that you can adapt to suit your needs when you need to do so.
Reporting - e.g. measuring conversion rates and comparing the performance of different marketing methods.

Don't Forget
However simple or sophisticated your CRM or Prospect Management system is, it is only going to be useful and effective if you use it! So, your system might remind you daily about leads you need to follow up, but if you don't have the time or resources (or inclination!) to do that following up then it is pointless having the system in the first place.
Be pragmatic and put in place a system that you know will suit you.

What next?
If you would like to link up your existing CRM or Prospect Management system to the other parts of your business, or if you would like advice on creating a CRM or Prospect Management system that can integrate with your operations, just let us know. We offer free advice - even if the solution doesn't involve something we can help with.

You can also find a sample Microsoft Access database along with a tutorial on how to create one yourself to your specification.
Alternatively, if you need a bespoke CRM system created for you but have a limited budget, we now have a solution that might be right for you. More information