GIS Database Integration
Is analysing geographical data a key part of your operation?
Do you need to import data from a GIS into a database?
Are you looking for an expert MS Access programmer experienced with GIS mapping software?
Would you like a free quote for your project?
If you answered yes to any of the above, call us now on 01747 822616 or fill in an enquiry form and find out how we can help you with your GIS software and database design.
About the use of GIS with your Database
We can utilise the open source version of the Mapguide GIS to combine the use of geographical information into your daily business operations using a bespoke interface that can be run over the web. For some ideas of the sorts of things this can entail, please read the case study below.
---
Case Study: Hunting Solar Power Hotspots
The task was to create an interactive GIS application for helping our client to search for and assess the value of potential solar panel sites and to manage on-going solar power installations. The work covers the whole of the UK. The GIS mapping software required various bespoke layers and functions including Google Maps/Earth as a backdrop and the ability to link to a Microsoft Access database containing site information.
We set up this application using Mapguide Open Source (a free web-based platform used to deploy mapping applications) and Mapguide Maestro (an Open Source map authoring tool used to manage the maps). The map combines layers in various formats such as TIFF, SDF, SHP, WMS, SQL Spatial and MS Access.
The Access database links to the GIS so that any data in the database - e.g. site details - can be displayed on the maps. A status field in the database enables us to use different icons to represent the sites depending on their state of progress. You can view more information about a site or project by clicking on an icon.
The system also includes a facility to draw on the map and to store this in a database. In this case, users are able to draw boundaries round the areas of the proposed site and to store these objects in the database so that they are linked to the relevant site. We used SQL Express Server 2008 to display and store this spatial data.
Example Features Using the Integrated Database
Adding new sites
If a user identifies a potential site on the map, they can add the data to the database on the fly. They simply click on the map to indicate the location of the site and then enter further site details, e.g. a Site Name. The system picks up the current user's name automatically and stores the Site record in the Access database. The next time anyone views the map the site will appear as an icon at the chosen location.
Calculating azimuth
Azimuth is a measure of which way somewhere faces - north, south, east, west, etc. The azimuth is key for siting solar panels. To make sure the panels will have a suitable azimuth the system contains a bespoke facility to calculate angles.
Assessing map areas
When assessing the potential of a new site, the size of the potential panel area is a determining factor. So we developed a facility to draw around the relevant section on the map and then have it instantly display a label containing the area in m². The user can also click a button to save an image from the map containing the drawn area. Elsewhere, the system contains a button to create a site-specific document based on a Word template and including this image.
Jumping and zooming to sites of interest
The map has an admin area containing a live list of sites from the Access database. The user can select a site from a drop-down and the map will jump to that specific site at a set zoom level.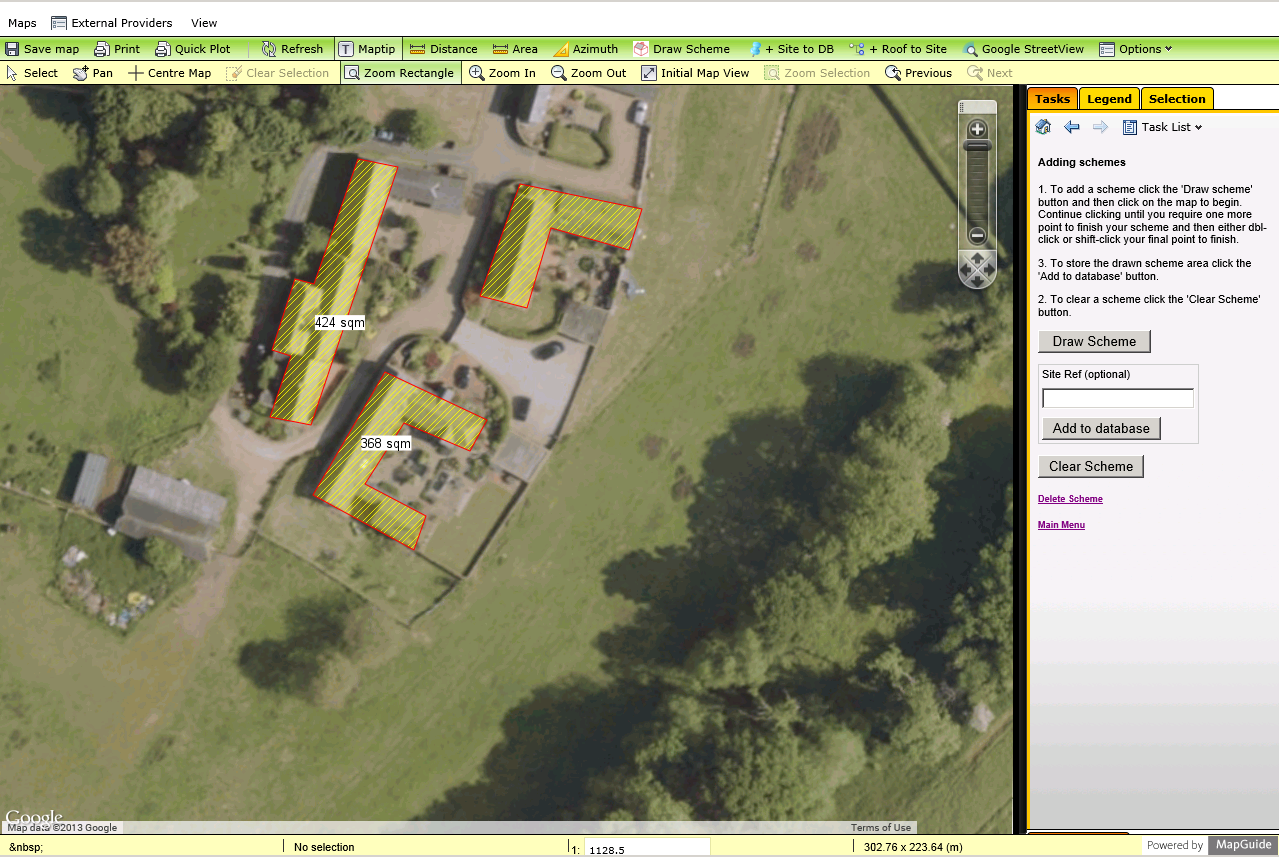 In the end, by combining the features of maps and a database, the finished GIS system allows a user to easily manage solar power ventures across a whole country from any computer (via remote use of a server). It pulls in data from many sources so that all the information they could need is only a click away. If you think your operations could benefit from having such a strategic overview, then contact us for a free consultation (see below).
FREE Consultation - what you get:
Free 10 - 20 minute phone consultation
Chance to talk through your project with a GIS database expert
Friendly, jargon-free advice on your project
An honest assessment of your project; if we don't think you need something - we'll tell you!
Fill in an enquiry form here and we'll call you back or call 01747 822616 to speak to someone right away.
Why should you choose a Microsoft Access database for GIS integration?
Cost of development - With an Access database it's easier for us to create what you need than it would be in other packages, so it costs you less. Any further development costs are also reduced.
Rapid Application Development - As we have been using MS Access for so long our team of skilled Access programmers will design and build you easy-to-use, attractive and functional applications for use in your GIS quickly.
Integration - It can easily be integrated with any of the Microsoft Office suite and most other software packages.
Ease of use - We make sure we fit your exact needs, making training simple and quick.
Multi-User - Access is designed to operate on a network and can work approximately 10 users simultaneously.
Web integration - A Microsoft Access database can easily be integrated in to web projects using GIS.
What now?
To find out more about our GIS and Access database design services for a new project or if you would like to talk to an Access programmer regarding a system created by someone else and how we can help you,
click here to fill in an enquiry form.